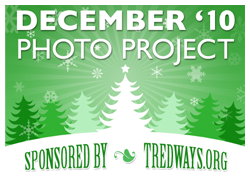 Well, since I blew Project 365 part deux.
And since I also blew my monthly family photo project.
I thought I would try yet another new project.  This one I just MAY finish.   This is the December '10 Photo Project sponsored by www.tredways.org.  You take a photo a day starting on December 1 and ending on December 25th.  You can also join the DPP Flickr group and upload your photo to the group pool.
I think this will a very fun little project that I actually hope to finish.  December is such a fun month with so much going on and so much excitement.  It will be nice to capture the entire month in photos.  And since fall was so crazy busy, I really didn't take many fun family photos and I don't think I took any landscape photos.  So this will be a nice change of pace!
Today was the perfect first day of a December photo project because it was our first real snow.  It was so pretty this morning and I got out for a quick drive to check out the scenery and snap a few shots.  This was my favorite of the day: